Websites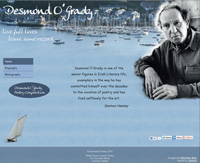 Desmond O'Grady is a Limerick born poet that has published several poetry and poetry translations collections.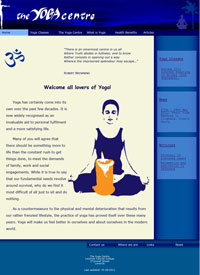 The Yoga Centre offers yoga classes in Limerick from qualified teachers and based on the classical form taught for centuries.
More and more businesses today are relying on the internet to promote their goods and services. Internet access is available now to so many households that a good website is an invaluable aid in reaching out to the marketplace.
However, it is difficult to find someone who is willing to take the time to help someone like myself, being somewhat challenged in the area of computers. For this reason we are very glad to have found Wild Wise Web who did all the work and did a great job. more...
Lucia takes the time to assist a complete novice and with admirable patience presented us with a beautiful site despite our inability to articulate exactly what we wanted. As a result we have been seeing a steady increase in the number of new students finding us directly through our website which provides them with an easy and direct means of enrolling in a course of yoga classes.
Thank you, sincerely, Lucia, we are thrilled with the work and the great service. It is wonderful to know that you are immediately at hand when we need help with updates and other additions. I will be recommending the services of Wild Wise Web without hesitation.
Best wishes for the continued success of your company. less...
Mary
Videos
Wood turner Liam Flynn exposing the process of creating his wood vessels, from the wood log to the final artistic product.
3D solar system: a 30 seconds animation of the planets in the solar system; a camera flies through the planets in dramatic fashion; prototype for educational video.